We are calling for you to stand in solidarity with people living with HIV and AIDS by sharing our myth-busting facts on Facebook, Twitter and via email.
Worldwide, the number of new HIV infections and AIDS-related deaths have both decreased by roughly a third since 2001 and 2005, respectively. The global effort to reduce HIV is showing success, but together we can do more to combat the issues surrounding HIV and AIDS.
Did you know?
In the UK:
6000-7000 people are diagnosed with HIV every year.
A quarter of those who are HIV-positive do not know they are infected.
900 school age children are currently living with HIV.
Globally:
36 million people are living with HIV – the equivalent of half the UK's population.
Only 40% of people living with HIV had access to anti-retroviral treatment in 2015.
Only 60% of countries have laws that protect those living with HIV against discrimination
People living with a disability often face double the stigma: for their disability and again for their HIV status. Read more about this issue from one of our development workers Farai Mukutu.
HIV and AIDS in Zimbabwe
The spread of HIV and AIDS is having a detrimental impact on the transport industry workforce in Zimbabwe. Long-distance truck drivers are one of the highest risk groups for contracting the HIV virus as they spend months on the road without seeing friends or family. Drivers often form local relationships, increasing their chance of exposure to the HIV virus. And if they do contract HIV, the risk of passing it on travels with them. In Zimbabwe, Progressio works alongside partner organisation Zimbabwe AIDS Prevention and Support Organisation (ZAPSO) to offer HIV education, HIV testing and counselling for people whose lives have been affected by HIV. This support helps to tackle stigma within communities and allows those living with HIV to take power over their own lives and live with the respect and dignity they deserve. Steven Msamala works for a long-distance haulage company in Zimbabwe that benefited from workshops provided by Progressio and partner ZAPSO. 

"I need information to keep safe. The sessions have opened participants' eyes and changed lives," says Steven. "One man proved to be HIV-positive and was supported by the haulage company. Within weeks he had gained weight and the throat infection and fatigue had ceased completely."
 Lack of education around HIV transmission can often lead to discrimination based on common misconceptions. Initiatives like this one provide vital education for communities and create a safe space for people to share information about HIV and AIDS. On World AIDS Day, we can continue to break the stigma around HIV and AIDS by raising awareness on this issue.

What have our ICS volunteers been doing to mark World AIDS Day?
Our ICS volunteers have been speaking with people in their local communities to highlight stories of strength from those living with HIV.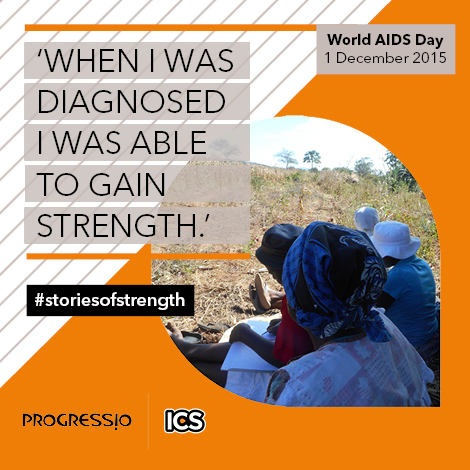 How can you contribute?
Share or retweet our HIV myth-busting fact cards on Facebook and Twitter. Use #WorldAIDSDay and #RethinkHIV to stand in solidarity with people living with HIV. This initiative was led by a small group of young activists from our Progressio Empower Network, to learn how to get involved with this network please visit our Progressio Empower page.