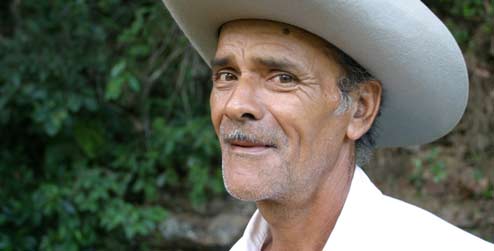 Romelio, a farmer in Olancho, Honduras
Hector and Romelio have farmed the land in Olancho, Honduras, all their lives. But what was once a lush, fertile environment is now barren, and the two men, like many others in the region, are struggling to feed their families.
"Look at this land," says Hector, pointing to the hillside that was once forest, but now stands bare. The trees disappeared almost overnight, he explains. Illegal loggers came, cut them down and took away the timber, leaving nothing behind but environmental and economic devastation. In a matter of hours, an already fragile eco-system was destroyed.
"This soil used to be so rich," says Hector. "Now it's dry and tired. My family has lived off this land for years. Today, we're struggling to grow enough food to survive."
Another farmer, Romelio, says: "Only poverty and a feeling of neglect remain for those of us who live here. We ask ourselves, "What will we leave our children? A desert? More misery?"'
For years Olancho has suffered drastic environmental changes as businesses, both legal and illegal, have exploited natural resources for commercial gain.
However, for the sake of their children and future generations, Hector and Romelio have fought back against the corruption – and won.
They joined forces with Progressio partner CAM (the Environmental Movement of Campamento). Together, Hector, Romelio and other local people involved with CAM successfully lobbied for a new law to protect Honduras's precious forests. After intensive campaigning at local, departmental and national levels, which saw them face intimidation and direct threats of violence, they drew up draft legislation which they submitted to the government.
The new law, which was passed last year, gives local communities the power to administer and preserve their natural resources. It can't bring back the ancient forests around Olancho, but it will protect Honduran farmers like Hector and Romelio from the onslaught of illegal loggers.
As Hector says: "We will not let those people steal our resources again."