Every human has the right to an education.
Tragically, in many communities in Malawi, children and adults just aren't getting the teaching they need to make their way in the world. This void of knowledge leads to extremely high unemployment, low productivity, lower self-confidence among individuals, especially young people, and most destructively of all; a devastatingly high rate of HIV transmission.
We decided that this simply wouldn't do at all.
As part of our international development campaign we have been concocting and delivering hand-tailored informative sessions to schools, youth groups and community based child-care centres in a bid to help communities grow and thrive on the knowledge that they need.
Get a job! – with Lumbani Kajiso
As anyone who has ever applied for a job will know, getting your CV exactly right is hard. Imagine how much harder it would be without being able to simply Google: 'How to write a CV'? Many young people here don't know what a CV is or what it's for, let alone how to compose one. We set out to rectify that. Lumbani Kajiso reports on delivering sessions on CV building...
A CV is important because it allows one to market him or herself to possible people or companies who can employ him or her. The training we deliver will help the youth of Malawi, along with the youth groups, in such a way that people will be able to write good and well detailed CV's, as writing a CV has always been a challenge here in Malawi, especially for the youth.
Myself and Dan have done sessions to youth groups on how to write a Malawian CV. We taught them how to write a CV using a different style, and how to use references as a way to make a good CV. This will help the youth of Malawi to write a good CV, thereby increasing their chances of finding employment. The sessions worked well, and the youth groups asked us to come back and do sessions on job interviews and cover letters.
"I am Special!" – with Tusha Sopera 
Poverty is depressingly good at crushing spirits. We went out to see if we couldn't revive some. Giving people, children especially, confidence and self-esteem early on will help them to develop as happy, productive, psychologically healthy individuals and give them the drive to thrive, succeed, overcome poverty and establish themselves in a developing economy. Tusha Sopera reports on delivering sessions on self-esteem and confidence...
Self-esteem and confidence starts with believing in yourself, being comfortable with what you do, no matter how the world shakes you or crushes you and your choices. We want to encourage people to stand strong in maintaining and bettering their livelihoods because it gives them freedom.
Once you have self-esteem, you will be able to do whatever plan your heart tells you in a way that you have no doubt with what you want to achieve, thereby you increase the chances of getting higher and reaching your goals. Because that is strongly built in you, you will surely not breathe until you become the best you can be. In this way, we can encourage people to overcome poverty and become independent.
I delivered sessions on the importance of self-esteem and confidence to young people and AIDS support groups. One of the AIDS support groups we visited; Kadambo, told us that we had changed the way they thought about themselves for the better, and we had made them happy once again.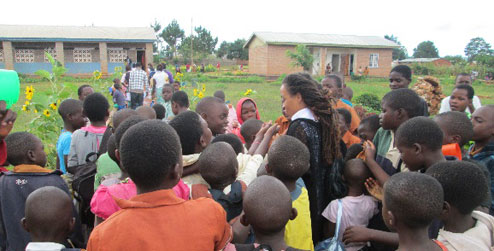 Kisha is mobbed by fans after the session. They're all shouting 'I am special! I am special!' 
---