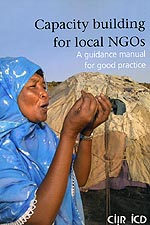 This comprehensive manual on capacity building for local non-governmental organisations can be used for training and development or by local NGOs as a self-help manual.
Please note: This manual was published in 2005 and some parts of the manual may now be out of date (for example, free open source accounting software suitable for use by small NGOs is now freely available) or not represent current best practice.
Each chapter is available to download separately. Click on the chapter titles to download PDFs.
All downloads are free - but if you find this publication useful, please consider making a donation to our work - thank you!
0 Introduction and contents list (140k PDF)
2 Organisational governance (90k PDF)
3 Strategic planning (100k PDF)
4 Managing finances (650k PDF)
6 Managing projects (100k PDF)
7 Office administration (270k PDF)
8 Publicity and fundraising (50k PDF)