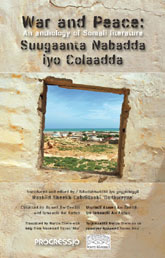 Books that are available to download. Click on the titles to download PDF versions. They are listed in reverse chronological order by publication date.
All downloads are free - but if you find our publications useful, please consider making a donation to our work - thank you!
War and Peace: An anthology of Somali literature
(2009) (1.49 MB PDF)
Introduced and edited by Rashiid Sheekh Cabdillaahi 'Gadhweyne'
Bilingual edition (English and Somali)
English translation by Martin Orwin
Co-published with Ponte Invisibile (Redsea-Online.com)
Poetry is at the heart of Somali culture and plays a fundamental role in Somali society in commenting on situations and influencing opinion. This anthology brings together for the first time a collection of poems on issues of peace and conflict. Together with an informative introduction, the poems and stories provide a fascinating insight into the reasons for conflict in Somali society, and the ways in which conflicts have been resolved and peace restored.
Independent women: The story of women's activism in East Timor
(2005) (1MB PDF)
Irena Cristalis and Catherine Scott
This book tells the story of how East Timorese women activists mobilised against a patriarchal society and claimed their right to participate in their new independent and democratic nation. Includes sections on the women's movement during Indonesian occupation and after independence, and comparative chapters on women's experiences in Cambodia, Mozambique and Namibia - countries which have also experienced the transition from an extended period of conflict to eventual independence.
Download the colour plates (16 pages of pictures) from Independent women (885k PDF)