It has been a quarter well spent in 2016. Volunteering under ICS has had a huge positive impact in my life and to the youth I worked with. It has touched our economic, private and social lives. It has been a long but short journey altogether. Facing the departure of our UK volunteers made the journey longer, but weighing the benefits attained at the end of programme makes it shorter. At the end of the day, one may wish the programme to be longer than three months.
Economic life
'Blessers', sugar daddies as we call them nowadays, have taken a tour with the Bulawayo youth. This devilish set up has created an economic dependency syndrome, hence the rise in the HIV statistics in the 'City of Kings'. I believe ICS has since changed that setup, in fact reduced the number of girls associating themselves with such predators. 
Low income generating projects have empowered the girl child and saved her from the illicit behavior that come with poverty. Instead of mingling with the vultures in a bid to stay alive in the survival of the fittest, ICS has positively intervened. The programme has vested them with skills and input in the form of vegetable seeds and land to kick start garden projects. In return, the produce could be sold or consumed, hence a benefit to them. 
A domestic garden
On that note, it has been another module that I have been taught in my life through ICS. In as much as I am a Political Scientist major, I believe I now have an understanding on how much a person can benefit from agriculture through low input gardens. I haven't started my own garden at home but I intend to do so with time. I can imagine the 50 cents we will save everyday as a family when we stop buying vegetables from the vendors.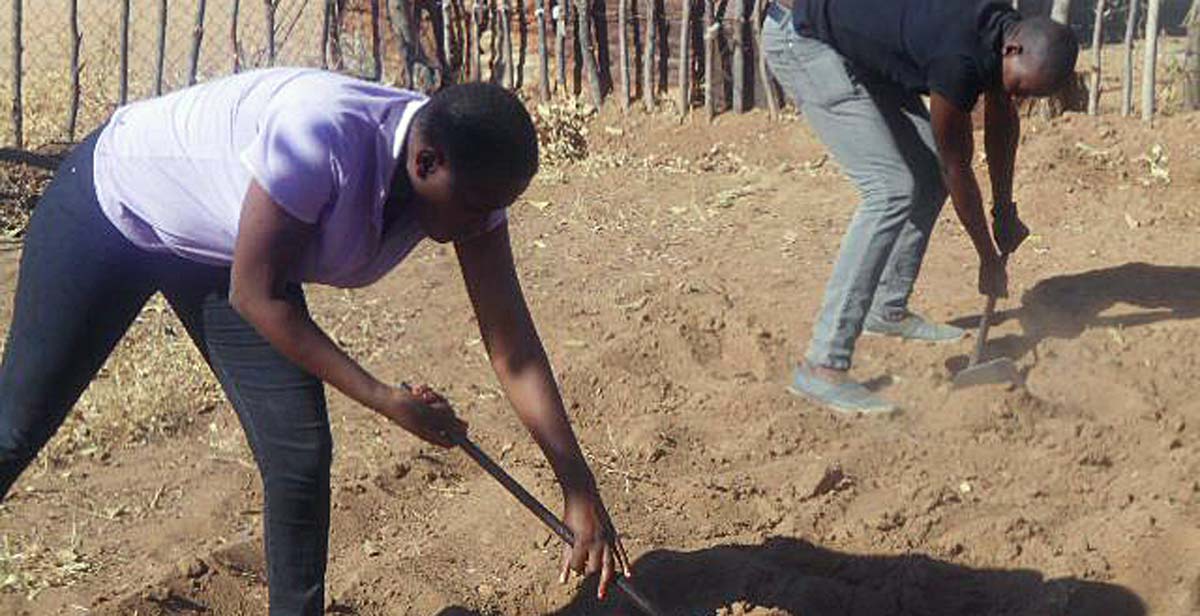 Progress preparing gardens
Personal development
In as much as I am a lady who has a passion for development, I never had an opportunity to exercise my will. ICS presented an opportunity at a time when I needed one, right after I graduated from university. The programme empowered me with skills that I will use in my everyday life and in my future career.
Through this initiative, it became easy for me to engage with youths and other stakeholders through Matabeleland AIDS Council (MAC), thus saving me from going through so many channels to achieve such a setup. ICS gave me a platform to donate my time and abilities wisely. It served as a means to contribute immensely to the community. Community dialogues, Youth Education through Sports (Y.E.S) and weekly meetings were mainly how we worked with community youths.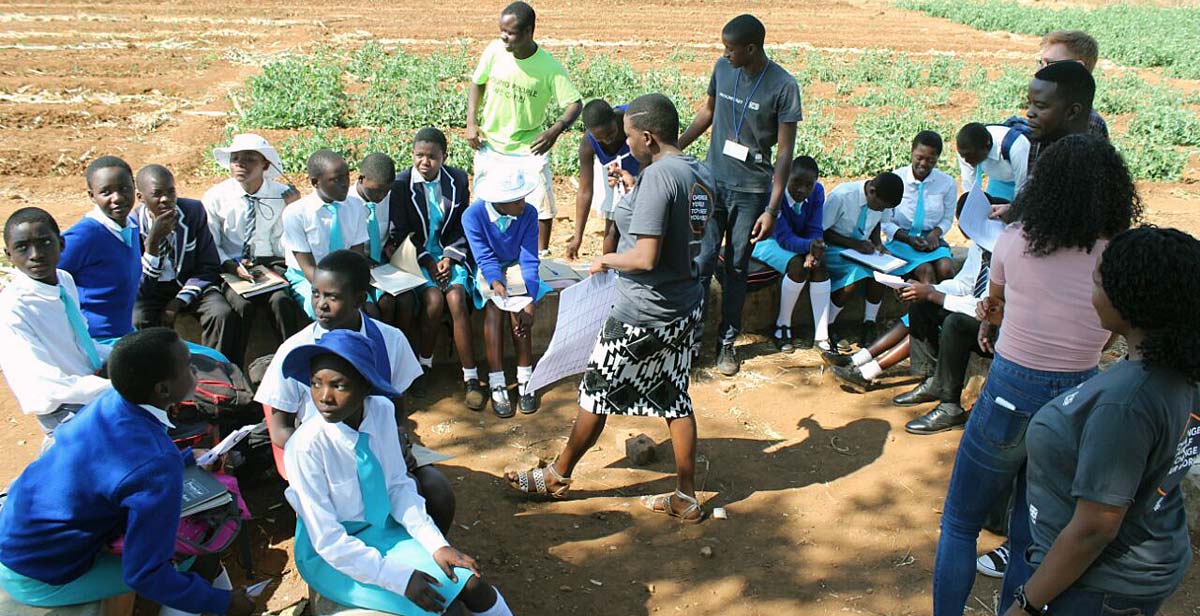 Engaging with the Nketa High Youth 
These meetings progressed well as we argued, debated and came up with ideas on how best we can continue the struggle against issues that later lead to attainment of HIV and sexually transmitted infections. I got to share the little knowledge l had on HIV and AIDS and sexual and reproductive health and rights (SRHR) with other youths in a bid to eradicate the pandemic. Thus, at the end of the day aiming to fight it down to ZERO stigmatisation, discrimination and HIV related deaths.
ICS empowered me with skills to use in my everyday life, for instance, on how to approach the elderly, how to communicate in business language when it concerns business and especially how to relate well with my peers, be it locally or internationally.
Volunteering with ICS sharpened my facilitation skills, event planning and management. It particularly taught me how to hold a successful event with limited resources, For instance, during my term we held an education through sports event with little in our coffers but the turnout was huge, hence a successful event.
Social life
Through MAC, I understood that the purpose of being trained on issues of HIV and AIDS and SRHR is not to empower the community only but oneself as well. After having gained much knowledge on SRHR, I took it upon myself to go for HIV testing and cervical cancer screening. I took this decision after I was taught that the recent statistics suggest that most women today are being killed by cervical cancer, far more that AIDS in Zimbabwe. 
Therefore, in as much as we were taught to share the information with the community, I was empowered as well in that regard. Hence, I give thanks to ICS, which exposed me to such an environment and has contributed positively to my health.
The programme has further educated me in a number of aspects. My fellow UK volunteers taught me the dos and don'ts that come with working in a culturally diverse environment. It has taught me to move out of my comfort zone and value time within a working environment.
My chain of friends has also increased. Today I have a wide selection of friends, locally and internationally.  
Going to picnic for the first time in my life (hahaha) with Thembela and Jamie
Written by ICS Alumni Progress Mazanhi (July - September 2016 cycle, Team MAC, Zimbabwe)