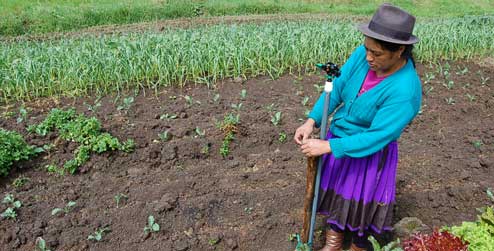 A farmer in Ecuador fixing an irrigation pipe
Water resources are expected to be particularly affected by climate change, with increased variability in rainfall patterns, water scarcity, floods and deteriorating water quality. This has serious implications both for people and ecosystems. Some of the potential changes may be irreversible, and urgent solutions are needed.
Read our short briefing paper on water and climate change (800k PDF). See also UKWN's briefing paper Managing water in a changing climate (278k PDF) published by Bond's Development and Environment Group. Read our recommendations for an integrated approach to water and climate change in our briefing paper on A waterproofed post-2015 development framework (2.5MB PDF).
Even with a moderate 1˚C increase in temperature it is estimated that the small glaciers in the Andes will disappear, threatening water supplies for 50 million people. With a 2˚C increase there could be a 20-30% decrease in water availability in some vulnerable regions.
Many poor people around the world are already suffering from unreliable or inaccessible water resources and climate change will make this worse. In 2009 the number of hungry people in the world reached a staggering 1 billion people.
Small-scale farmers play an important role in feeding the world's poor and currently feed around 2 billion people worldwide – a third of humanity. But they often rely on rain or small-scale irrigation for their crops, and climate change is therefore already further increasing their vulnerability. Without the right support this could spell further disaster for the world's poor and hungry people.
Women are often the most vulnerable as they are usually responsible for meeting the everyday water needs of the family. Already this can mean spending as much as eight hours a day carrying up to 40kg of water on their heads or hips. In Africa, women do 90% of the work of gathering water and wood, for the household and for food preparation. Often girls help, leaving less time for education. A little known fact is that women also account for around 70% of farmers worldwide, despite having little access to land rights or decision-making structures.
Progressio works with partners and other organisations to raise awareness of water issues at the climate change negotiations and other relevant forums, including the particular impact on women. We also work to identify and advocate for sustainable solutions.
Our Just Add Water campaign, in the run-up to the Copenhagen climate change negotiations in December 2009, aimed to ensure that water was firmly on the agenda. Progressio travelled to the negotiations with Fabiola Quishpe, a community leader from Ecuador. Working through the Water and Climate Coalition (WCC), we have continued to push for water to be part of the agenda and are pleased to report that substantial progress has been made!
In cooperation with the leading global law firm Mayer Brown, we have also produced a Climate Change Legal Reference Guide which sets out key laws on forestry and water in the context of climate change. The guide aims to help organisations working on climate change to understand the key principles underpinning international environmental law. The guide is available to download in English (470k PDF) and Spanish (515k PDF).