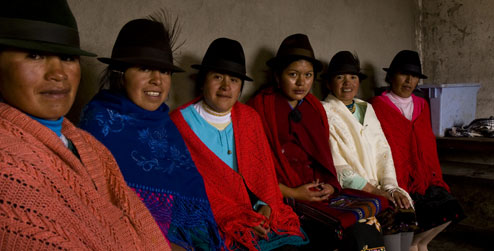 Consultation with women farmers in the Apahua community, Ecuador (photo © Santiago Serrano/Majority World/Progressio)
What is the UN High Level Panel (HLP) on the Post-2015 Development Agenda? 
In July 2012, UN Secretary General Ban Ki Moon appointed 27 eminent persons from government, civil society and the private sector to advise on a bold and practical development agenda beyond 2015.
The Panel is co-chaired by Prime Minister David Cameron of the United Kingdom, President Susilo Bambang Yudhoyono of Indonesia and President Ellen Johnson Sirleaf of Liberia.
The Panel is expected to submit a report to the UN Secretary General on 31 May 2013.
When the HLP met in London in November 2012, Progressio attended several events with members of the Panel. Ahead of the events Progressio consulted with staff and partners in the countries where we work and we were able to present their views directly to members of the HLP.
What consultations have taken place?
National consultations
The UN has coordinated national consultations in around 100 countries, giving citizens and organisations at a country level the opportunity to inform the preparation of the post-2015 framework.
Thematic consultations
Alongside national consultations, several thematic consultations have been coordinated by UN agencies, focused on eleven themes: inequality, health, education, growth and employment, environmental sustainability, governance, conflict and fragility, population dynamics, food and nutrition security, energy and water.
The World We Want
The World We Want is a global consultation with civil society on their views of what the post-2015 development framework should look like. The World We Want web platform is co-hosted by civil society and the UN, and is an online forum where people can share their opinions and perspectives.
What is the timeline of the Post-2015 Framework?
May 2013 - High Level Panel presents its report to UN Secretary General Ban Ki Moon
September 2013 - Millennium Development Goals Review Summit; Ban Ki Moon presents his vision for post-2015 development based on the work of the HLP; the working group on the SDGs is also expected to give a progress report