A food security training programme run by Progressio and its partner, ASCALA, is helping to raise incomes and improve diets in some of the Dominican Republic's bateys, some of the most deprived communities in the country.  Residents, such as Rafael Fleming, a 43-year old from Batey Las Pajas in the Eastern region, have learned how to use organic farming techniques to grow vegetables in family plots.  The produce can be consumed by the household, adding variety to their diet, or sold to bring in extra cash.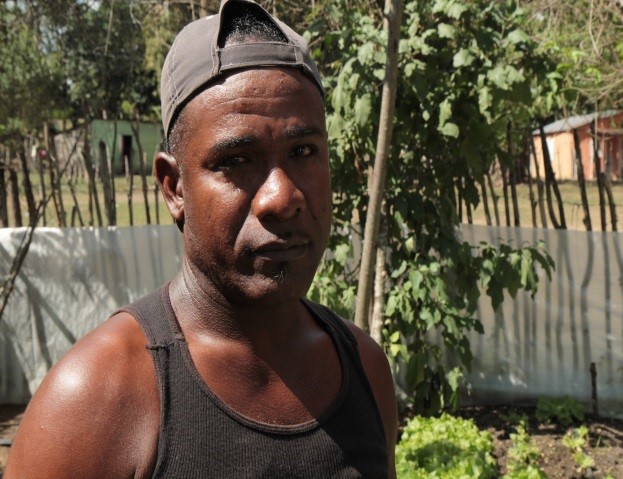 Rafael, a welder, has a passion for farming, which is summed up in his maxim "the sweat you give to the earth, the earth returns to you".  He and other batey residents who have attended the Scalabrinian Agroecological Field School, established with the support of Progressio, have learned how to use drip irrigation to make the best use of scarce water, as well as composting and how to plant several crops together, to reduce insect blight and diseases.  Now he grows aubergines, tomatoes, peppers, celery and lettuce, adding nutritional value to his family's diet. With his surplus, he's even managed to open a shop, selling produce to his neighbours, thereby giving them access to fresh vegetables at a good price and enabling them to save on the otherwise prohibitively high transport costs involved in buying them.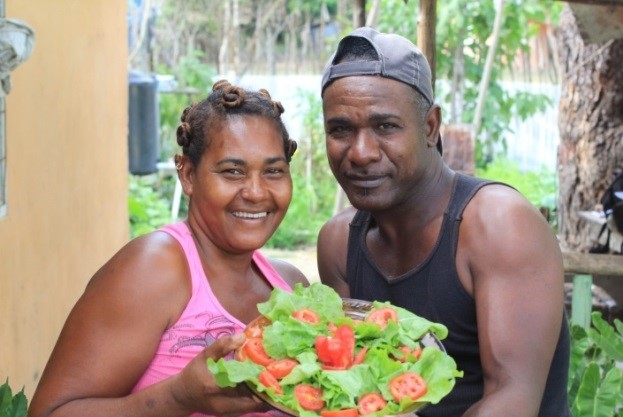 Bateys were established in the early 20th Century to service the sugarcane plantations, built to accommodate migrant workers, many of them from Haiti. For a long time, they were isolated from the rest of the country.  Today, 200,000 people live in 425 bateys, which are characterised by particularly serious poverty, unemployment, illiteracy, ill-health and documentation problems.  ASCALA's contributions towards improving their situation are therefore particularly important. 
Having previously struggled to survive, Rafael has been able to boost his income and give his wife Margot and his two sons greater security, as a result of having a steady source of income. Rafael said:
ASCALA and Progressio gave us the spur to achieve what we have now. The training sessions have been excellent in helping us to improve our production techniques.
Find out more about Progressio's work in Dominican Republic here. 
Here's how you can help us support more people like Rafael, to empower themselves: 
Fundraise for Progressio by challenging yourself. You can either sky dive, treck across the Atlas Mountains, or run the Royal Parks Half Marathon: bit.ly/Progressio-challenges
Or, if you would like to make a donation to Progressio, please click here: bit.ly/Progressio-Donate