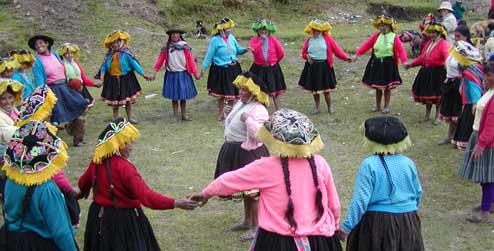 Women leaders on a course run by Progressio partner organisation Centro Bartolome de Las Casas.
Progressio has worked in Peru since 1976, helping poor and marginalised groups to have more of a say in their own future. Our development workers have:
enabled greater participation in the political process by women, young people, indigenous peoples and other marginalised groups – this was achieved by helping partner organisations to provide leadership training, build citizen networks, and build advocacy skills
helped partner organisations to advocate for structural change to the discriminatory political system and support the decentralisation process and the 'Mesas de Concertación de Lucha contra la Pobreza' (civil society working groups engaging with government to reduce poverty)
strengthened the ability of partner organisations to monitor and curb corruption at all levels of society and replace it with a culture of political transparency and honest leadership
reduced environmental damage and so improved the quality of life in impoverished rural communities – achieved through projects promoting sustainable management of natural resources, including by training men and women from peasant and indigenous communities to implement natural resource management projects
helped communities to stand up against environmental degradation, contamination and social decay caused by the mining industries
supported the active participation of people living with HIV in defining and implementing public policies to improve their access to medicine and information, and combat social discrimination
supported education strategies on HIV and AIDS among poor populations, with a focus on young people and women.
Our programme in Peru ended in September 2013 with the completion of two projects, funded by and managed in alliance with Christian Aid: on communication and climate change in the Andes; and on participatory management of the watersheds serving the capital, Lima.