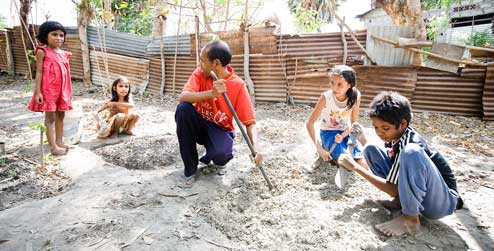 José Menezes Nunes Serrão with his children: José survived an attack by pro-Indonesian militia in Liquiçá in 1999 in which up to 200 people died (photo © Marcus Perkins/Progressio)
What is the problem?
Timor-Leste (East Timor) suffered high levels of political violence during 24 years of illegal Indonesia occupation from 1975 onwards. This continued after the vote for self-determination in the 1999 referendum.
To date, many of the human rights violations outlined in the report and recommendations of the truth commission of 2005 (the Chega! report) have not been addressed, either by legal means (such as an international tribunal) or by an alternative peace and reconciliation process.
This failure to deal with the violations feeds a culture of impunity. This in turn prompts outbreaks of instability, undermining the long term development of this emerging nation.
Since it gained formal independence in May 2002, Timor-Leste has achieved some growth and development despite these ongoing problems, and a growing problem of corruption. But protecting and promoting human rights is essential to the future security and prosperity of this young nation and its impoverished people.
What are we doing?
We work closely with civil society groups and networks in Timor-Leste to gather evidence about the situation on the ground, and what ordinary Timorese are saying about the peace and reconciliation process, and their work with Indonesian civil society. We work with them to analyse the findings. Then we share this thinking with politicians and officials in Europe, the UK, and elsewhere who guide foreign policy with respect to both Timor-Leste and Indonesia, which still has a significant hold over its much smaller neighbour.
We encourage them to follow policies on Timor-Leste which our partners tell us stand the most chance of supporting the peace and reconciliation process from outside, and so helping to build an environment in which long term development can be sustained.
Internationally, we publish articles (for example, the paper 'Pathways to Justice' - in the Human Rights in Southeast Asia series) and comment in the media, and undertake campaign actions to maintain public pressure on decision-makers. We work with the Parliamentary All-Party Human Rights Group and a number of formal and informal coalitions on these issues.
What have we achieved so far?
Between 2008 and August 2009 – the anniversary of the 1999 vote to end Indonesia's occupation, which was observed and reported on at the time by CIIR (as Progressio was then known) – we ran a high profile UK campaign East Timor: Who Cares? Following the campaign the UK government pledged to support Timor-Leste's efforts to build a strong and just society.
By highlighting these issues, working with coalitions and lobbying government, the UK ambassador and parliamentarians, we have helped to keep Timor-Leste on the international radar: we are determined it will not become the world's forgotten country.
We are in regular contact with our Timor-Leste office on their local campaign in Timor as well as with those responsible for post-Chega! work. A minor breakthrough came in December 2009 when Parliament voted to task Committee A of the Parliament (chaired by 2008 Progressio AGM speaker Fernanda Borges) to come up with plans to set up a Chega! follow-up institution.
What challenges remain?
We need to continue to support local and international efforts to overcome the problems stemming from the Indonesian occupation – especially the cycles of impunity and violence that have erupted since independence – and to build Timorese commitment to human rights and good governance.
Read more stories from Timor-Leste.