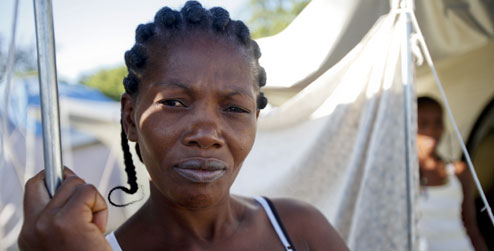 Marie-Ange Marcelin, a single mother with five daughters living in a tent camp in Port-Au-Prince, Haiti, after the 2010 earthquake (photo © Natasha Fillion/Progressio)
What are the issues?
An estimated 1 million Haitians live in the Dominican Republic (DR). Most of them are undocumented immigrants working in agriculture and construction.
Without documentation, people of Haitian descent – including people who were born and have lived all their lives in the DR – have no rights. They cannot use health and education services, they have no legal protection and when they are 18, they cannot vote.
People of Haitian descent play a key role in the Dominican economy, yet face considerable discrimination and prejudice. The two nations share an island and face similar issues, such as environmental degradation and water scarcity. Improved bi-national cooperation will help both nations tackle these problems, and lead to improvements in the lives of many poor Haitian and Dominican people.
What are we doing?
We believe that strong bi-national relations between the two countries will encourage economic development, protect the natural environment, and help uphold the rights of Haitian migrants and people of Haitian descent living in the DR. We are therefore supporting bi-national initiatives, particularly in the border area.
We are also supporting local and international efforts to persuade the Dominican government to introduce robust and transparent procedures for people of Haitian descent to acquire Dominican nationality.
Read our 2008 policy statement Hope for co-existence: Advocating for better human rights for Dominican-Haitians and Haitians living in the Dominican Republic (1.54MB PDF)
Read our Joint Parliamentary Briefing "Building Back Better" - January 2011 (475k PDF)
Read our report on the application of International Migration Laws and Conventions to the status of Haitians in the Dominican Republic and Dominicans of Haitian origin (350k PDF). This report was the result of a collaboration between Progressio and Simmons & Simmons LLP. The report aims to help support advocacy work by civil society organisations in the DR and Haiti, by providing an overview of migration laws and conventions in relation to the situation of people of Haitian origin in the Dominican Republic. Progressio is very grateful to Simmons & Simmons for their assistance with this project.
What have we achieved so far?
For several years we have provided international support to a group of civil society organisations in the DR lobbying for changes to the nationality rules. In 2009, a new DR Constitution included the principles of jus soli (literally 'the right of soil' – roughly, it means the right to nationality or citizenship for anyone born in a territory) and jus sanguini (literally 'the right of blood' – roughly, it means the right to nationality or citizenship for anyone whose parent is a national or citizen of a territory) for the acquisition of Dominican nationality.
What challenges remain?
We continue to support partner organisations in the DR working to ensure that the nationality rules in the new constitution are properly implemented, and that the registration process is not used as a back-door method of repatriating undocumented Haitians living in the DR.
We will continue to push for improved bi-national relations so that the two nations can work together to promote development. We noticed a big step forward in bi-national relations in the aftermath of the devastating earthquake that hit Haiti in January 2010, with the DR playing a key role in helping to get humanitarian aid to Haiti. The role played by Dominican civil society organisations in the humanitarian aid effort also reflects growing solidarity and co-operation between civil society organisations in the two countries.
Read more stories from the Dominican Republic and read stories from Haiti.