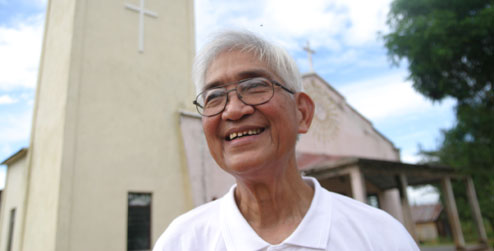 Fr Samuel Dizon outside his church in Lihu village, Timor-Leste
Faith gives us our inspiration. Progressio was founded by lay Catholics and our values are inspired by Catholic social teaching. But our faith foundations also lead us to be fiercely independent and inclusive. We see every person as sacred, and we believe in human potential. That's why we are committed to working with people of all faiths and none, to help transform lives.
We live in a faith-based world. And many people in the countries where we work are people of faith. So one thing we do is work with local faith-based organisations and faith leaders to bring about change. In doing this, we draw on the riches of our Catholic roots. But we are inclusive, embrace diversity, and work with people of all faiths – such as Islamic leaders in Yemen and Somaliland.
And of course, we work with people and organisations of no religion. Our mission is to help people gain power over their lives and overcome barriers that keep them poor. We don't judge the people who work for us, or the people and communities we work with and for, on the basis of their religion. What's important to us is the commitment we share to tackling poverty and injustice. We are inspired by Catholic social teaching, but we work with all people as partners in the shared task of development.