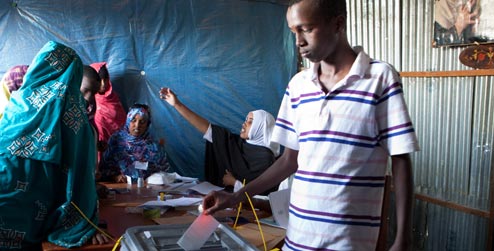 A young man voting at a polling station in Somaliland during the 2010 elections (photo © Claudia Simoes/Progressio)
What is the problem?
Somaliland is a self-declared independent state which unilaterally left the collapsed state of Somalia in 1991. However, it has not yet been internationally recognised as a sovereign state.
By comparison with most of former Somalia, Somaliland is peaceful, and has held a series of elections for government and parliament. Parliamentary elections were last held in 2005. Presidential elections were due in 2008 but were postponed and delayed by organisational and political disagreements. They finally took place on 26 June 2010 and a peaceful transfer of power occurred on 27 July 2010. Local elections were held in November 2012.
Timely elections are important for good governance and regional stability in this volatile region.
What are we doing?
Progressio, with UK-based organisations Somaliland Focus (UK) and the Development Planning Unit of University College London, has coordinated a team of international election observers at the last three elections, at the invitation of the Somaliland National Electoral Commission (NEC). We published reports on each of these elections, as well as a report on preparations for the 2012 local elections. In March 2017, we published our last report on the 2016 Voter Registration Process:
Further steps to democracy: The Somaliland parliamentary elections, September 2005 (295k PDF)
Somaliland: Change and Continuity, Report by International Election Observers on the June 2010 presidential elections (1.66MB PDF)
Preparing for local elections in Somaliland: Plans, challenges and progress (1MB PDF)
Swerves on the road: Report by International Election Observers on the 2012 local elections in Somaliland (3.2MB PDF)
Report by International Observers on the 2016 Voter Registration Process in Somaliland
As well as observing the elections, we have also been active in building international support for the democratisation process in Somaliland in general. By doing this, we are helping free and fair elections to take place, a vital building block for stability and good governance in the country and region.
Our advocacy work at an international level draws on long-standing partnerships with civil society organisations in Somaliland built up through our development worker programme. So when we comment on the election process, we do so from a position of credibility. 
What have we achieved so far?
Our poliicy and advocacy officer liaises regularly with Progressio's office in Hargeisa, where our country representative, Ms Suad Abdi, has played a role in civil society organisations. We also have a key influence behind the scenes in the UK and at international forums. We have regular meetings with diplomats and funders to discuss governance issues, and with the All-Party Parliamentary Group on Somaliland. We have held joint meetings with the Horn of Africa Group at Chatham House, including the launch of the joint facilitators' election report. Progressio's Steve Kibble, along with his co-ordinating colleague Michael Walls from the Development Planning Unit of University College London, has co-written a number of conference papers, articles and book chapters for the universities of Leeds and St. Andrews and the Review of African Political Economy, Africa Spectrum and Pambazuka. We continue to work with international organisations and electoral bodies as well as diaspora organisations on  elections and wider democracy agenda, including concerns over harassment of journalists.
In Somaliland itself, we work closely with Progressio partners, civil society organisations and women's groups to follow the progress and obstacles to elections, and understand what community members are saying about this. We work with them to analyse the findings. Then we share this thinking with the Somaliland government, and others in a position to influence the Somaliland government – such as diaspora groups, Somaliland government representatives abroad, academics following Somaliland issues, and interested governments. We also keep the Somaliland public informed with regular press releases, which are usually well reported in the Somaliland media.
What challenges remain?
For Somaliland to continue on the sometimes rocky path to democratisation, we need to help build on the desire of the Somaliland people for stability combined with democracy. For Somaliland's people, typically living in poor conditions with very little money, beset by authoritarianism, Islamist insurgency and political insecurity, the process needs to continue.There is concern over media freedom and judicial independence.
Further reading