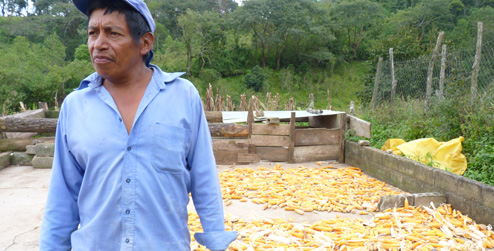 This week we're in Honduras. The third most vulnerable country to climate change, according to a recent report, we visit some communities dealing with its effects in some innovative ways and speak to experts who demand action at Cancun.
Our guide this week is Nuria Zayas, a Progressio development worker with CHACC (the Honduran Coalition of Citizen Action) to design a communication strategy to help advocate for citizens' rights following the 2009 coup in Honduras.
Flooding and blight
Nuria catches up with farming families in the highlands of Marcala, Western Honduras for whom climate change is not an abstract concept. Dealing with floods, landslides, blight and the severe economic impacts of extreme weather, we find out what the communities are doing to support themselves. More.
Urban farming revolution
In the capital city, Tegucigalpa, women in the Mother Earth Movement deal with the lack of water in vulnerable communities by building urban farms on yards in the middle of the city. Meet Maritza Arevalo who leads the way. More.
Climate experts speak
Dr. Juan Almendares, founder of Movimiento Madre Tierra (Mother Earth Movement), and a Progressio partner organisation argues for transformation, not just adaptation. And Marco Burgos, a Honduran expert on natural disasters and risk reduction, calls for more sustainable patters of consumption and production. More.