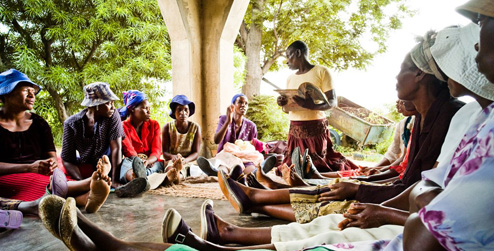 Photo: Gertrude Usaiwevu leads a volunteer group of 15 women in the Zvimba district of Zimbabwe. Despite having few material possessions, the women work tirelessly to find money for food and school fees for children orphaned by AIDS. Marcus Perkins/Progressio
Why stop now? 
You did your bit to help make World AIDS Day a tipping point in the response to HIV by signing our letter to the UK government calling for the right interventions for the right people.
You can see a copy of the letter here.
We were proud to be campaigning alongside the Stop AIDS Campaign - and the Prime Minister responded in a letter to the UK AIDS Consortium, stressing the Government's commitment to "lead by example as part of the global HIV response".
If you'd like to take part in future Progressio campaigns, including action to ensure that people living with or affected by HIV are at the heart of the response to AIDS, please fill in your details below.