Well that was fun! Wherever you were, we hope you enjoyed the Big Forest Picnic as much as we did!
And we hope you enjoyed meeting Progressio people as well as our partners WWF and VisitWoods too.
Check out the pictures from around the country here.
Let us know how it went for you, and send in your pictures. If you like, you can post them up on the VisitWoods website too.
And don't forget why we were doing it: to mark the importance of forests to communities all over the world.
Take a look at some of the latest features from our development workers.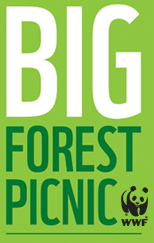 There's still time to be inspired to enter our forest story writing competition.
Children, young people and adults are invited to write a story of up to 500 words entitled 'The Forest'. There are some great prizes to be won!
Find out why forests are so important. Yes they're beautiful, but forests are also important for lots of other reasons. For many, they're a matter of life and death. Check out our guide!
And you can see the lovely video made to promote the event here.
Read a few of our favourite legends. Sent in by our development workers around the world, here are three legends about forests. Be inspired and write your own.