June 8
The Big IF London!
45,000 people swarmed into Hyde Park to say no to hunger. We were overwhelmed by the number of Progressio supporters that came along, it was fantastic to see so many familiar faces.
The sun shone, the people came and the G8 listened - this is down to you. We have selected some of the best pictures from the day, they can also be found on our Facebook page so feel free to tag yourself!
---
May-June
Cafe IF
In the last month there have been Café IF's popping up across the UK in the lead up to the G8. Young adult activists on Progressio's Empower programme have been taking over their local cafes to take the message of IF to the general public.  
Our fantastic Regional Mobilisers have been telling their audiences about Enough Food for Everyone IF's 4 big issues; aid, tax, transparency and land, while encouraging people to come to the Big IF Rally in Hyde Park on Saturday 8th June.
Ruth Kanyepi took her Church group to Caffe Nero in Southend on 26th May to raise awareness in Essex. She spoke to a large number of people about IF and many of the group committed to fasting for the campaign.
Babs Eze collaborated with the People's Kitchen at Passing Clouds in London, which is a weekly event where the People's Kitchen team, collect donations of surplus, edible food, and cook it into a community feast. They aim to raise awareness of the vast amount of food waste in the UK, which attributes to global hunger. The perfect crowd for the IF campaign message!
The next Café IF will be up in Lochelly, Scotland, this Wednesday 12th June. To find out more, drop us an e-mail.
---
Wednesday 15 May
Mass Lobby of Parliament by Religious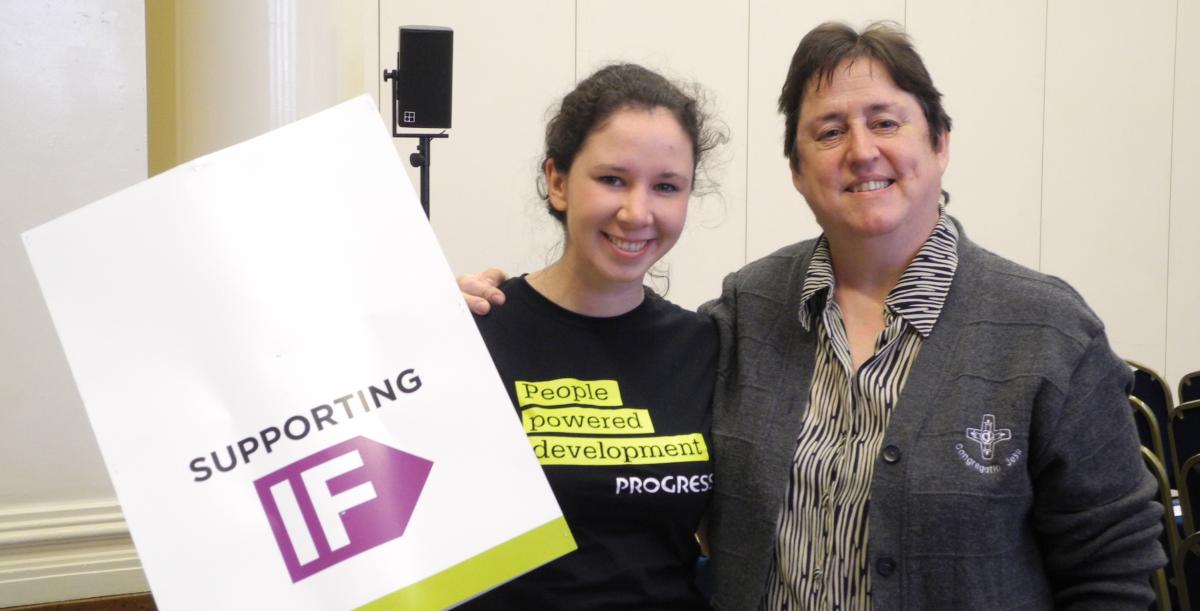 Over 250 priests, monks, nuns and other members of religious orders gathered at Westminster on Wednesday 15 May in order to show their support for the IF campaign, voice their outrage at the scandal of global hunger and let their MPs know what they thought!
Many of those present had spent time on the frontline of combatting hunger, caring for those suffering its affects and supporting those doing something about it in poor countries around the world.
One such nun is Sr Gemma Simmonds (pictured above with Catherine Orchard) whose first personal experience of poverty came in Brazil more than 20 years ago and has lived with her ever since - inspiring her to take to the radio, TV and lecture hall to let people here in the UK know about the reality of those elsewhere in the world living in poverty.
"I saw the human face of hunger," Sr Gemma says, "and on my return to London I found the contrast between that and the mindless consumerism here disgusting. I'm here today because I believe we need to change behaviour, from big businesses to individuals all doing their bit, and the government needs to realise that this is about changing the world. I feel my mission is to comfort the afflicted and afflict the comforted."
After pausing for a moment of prayer everyone processed to Parliament to meet with their MPs and ask them to take action on global hunger by:
1. Writing to the Prime Minister to ask him to prioritise nutrition at the G8 meeting
2. Writing to the Prime Minister to ensure the G8 leaders tackle tax avoidance
3. Writing to the Secretary of State for Business, Innovation and Skills to make sure the updated Corporation Act includes stringent human rights evaluations
---
Friday 5 April
1000 days of action!
Today a letter from more than 75 religious leaders from across the G8 has been sent to the Heads of Government. This is to mark that start of the 1000 day countdown until 2015 – the Millennium Development Goals (MDGs) deadline.
Here are the leaders' recommendations for the G8 summit in June, calling for actions which strongly echo the asks of this IF campaign
"As religious leaders from across the G8 we recommend that our Heads of Government take the following actions when they meet in June. First, fulfil existing commitments to spend 0.7% of national income on aid. Secondly, launch a G8 Convention on Tax Transparency committing signatory countries to prevent individuals and companies from hiding wealth so that it's untraceable. Thirdly, press for greater financial transparency from governments of developing countries so that the citizens of these countries can hold their governments to account for the money they spend."
You can download the letter here.
Watch this space for more news about the Journey to the G8 soon.
---
Friday 22 March
World Water Day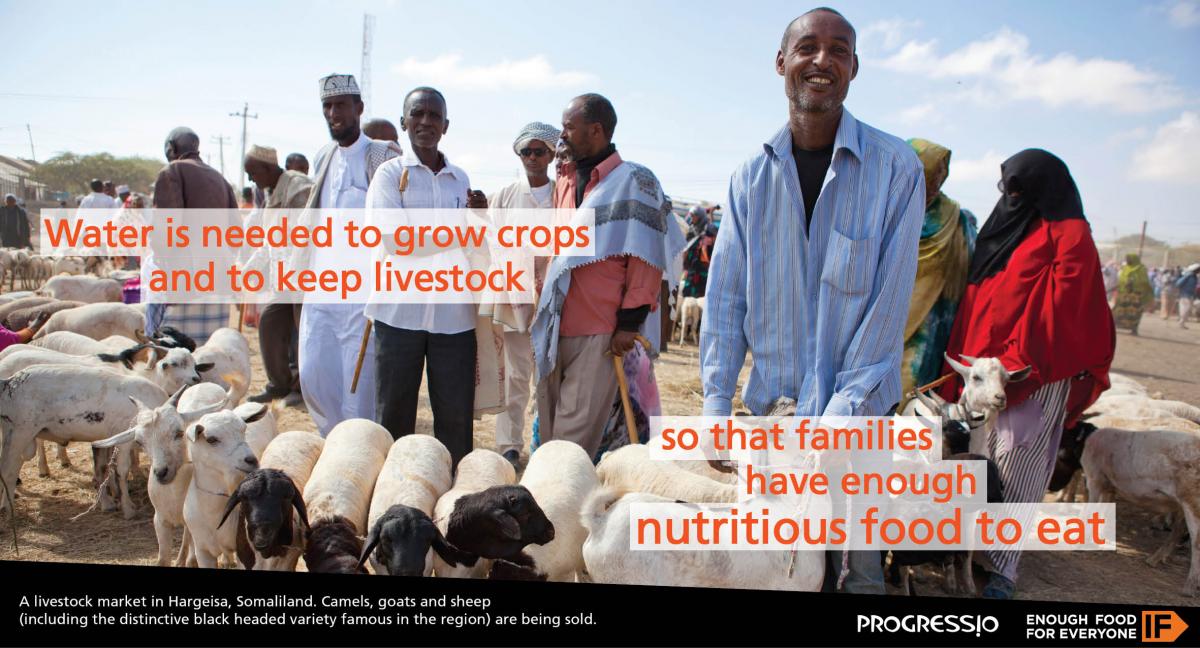 Photo © Progressio

Progressio is calling you to look at water differently! Water is essential to growing food, sustaining livestock and providing an income for many of the world's most poor and marginalised people.
As a brand new position paper on water within the post 2015 development agenda, co-authored by Progressio, highlights: 'To ensure enough water for food and farming, households need equitable access to water and the knowledge and skills to manage water resources efficiently, including improved irrigation and drainage system. Many of the world's poorest people in both rural and urban areas need water to grow crops, sustain livestock, produce goods and provide services in and beyond the household to maintain their livelihoods.'
Read more on Progressio Environment policy Officer Lis Martin's blog.
There is also a special World water day album of photos available here on Facebook.
---
Weds 20 March
Budget Day
Great news! We're super excited to be celebrating the inclusion of the 0.7% aid target in the Budget announced today! We are delighted that the UK Government has recognised the money it spends on aid makes an invaluable contribution to millions of people every day in poor countries around the world.

A George Osborne ahead of the Budget. Credit: Craig Philbrick/Tearfund
"The inclusion of this target in the Budget shows true global leadership in prioritising those in extreme poverty, even in austere times. It is also a clear acknowledgement of the incredible work done by so many British NGOs to alleviate poverty and bring about justice for the world's most poor and marginalised people," said Mark Lister, our Chief Executive.
"This is an historic win for campaigners across the UK," said Daniel Hale, Campaigns. "For 43 years campaigners have been working to get the UK Government to reach 0.7%. It's important that important promises like this are kept. We urge the Government to stick to the 0.7% figure and not to back down or opt out in subsequent years.
"The Chancellor also pledged to raise issues of tax dodging at the G8 and G20, but did not make firm commitments about UK companies operating in developing countries," said Daniel. "We await the publication of the Finance Bill for details of this."
So now we celebrate - and come back fighting for the G8!
---
Tue 5 March 2013
International Women's Day
This Friday, 8 March, is International Women's Day – an annual reminder of the inequalities women continue to face around the world as well as the steps being taken to achieve fair and equal treatment for women.
Women make up the vast majority of small scale farmers in the world, growing crops and perhaps keeping some livestock to feed their families. Women are also responsible for producing more than half of all the food consumed in the world. However they often struggle to gain access to land, water, credit and education because of cultural barriers.
Progressio are supporting women to farm their land effectively and manage natural resources, such as water, efficiently. Milagros Gomez, living in the Dominican Republic, has had support from a Progressio Development Worker Karina to raise chickens and plant nutrition gardens. Milagros is now training other women in her community to do the same; "We must continue to support rural women's associations, which receive little support and are usually excluded or marginalised," Milagros says.
This International Women's Day let's acknowledge and celebrate the achievements of women worldwide who contribute so much to the development work in their communities.
Milagros with some of her chickens (photo © Fran Afonso/Progressio)
---
Thurs 21 Feb 2013
Paul Goggins MP
Progressio supporter Anna O'Flynn had a successful meeting with her MP, Paul Goggins, last week.
"The meeting with Paul on Friday went really well," Anna told us, "He was really happy that a constituent had come to talk to him about the IF campaign as he said that it would add weight to his approach to the government."
"He agreed to write to both David Cameron and George Osborne about the 0.7% aid commitment," Anna continued, "And in addition, he said that he would devote his next column in the local newspaper (in a couple of weeks' time) to the IF campaign."
Thanks Anna and well done!
You can e-mail your MP directly from our website or find out how to lobby them in person.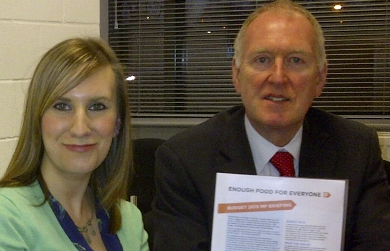 Anna O'Flynn with Paul Goggins MP (Photo © Anna O'Flynn)
---
Wed 13 Feb 2013
Lent begins
The Enough Food IF campaign is raising awareness about some of the reasons 1 in 8 people still go to bed hungry every night. 
Lent is a good time to think about the food we waste and people in poorer places who do not have the option of giving up luxury items of food.
But as Lis Martin, our Environment Policy Officer, points out - wasted food also means wasted water and with half of all food produced ending up in the bin – that's a lot of wasted water.
So this Lent why not give somethign up that reduces the amount of water you consume too – producing 1kg of chocolate, for example, requires 17,196 litres of water!
Need some inspiration? See if you can complete our one day water diet challenge. Let us know how you get on!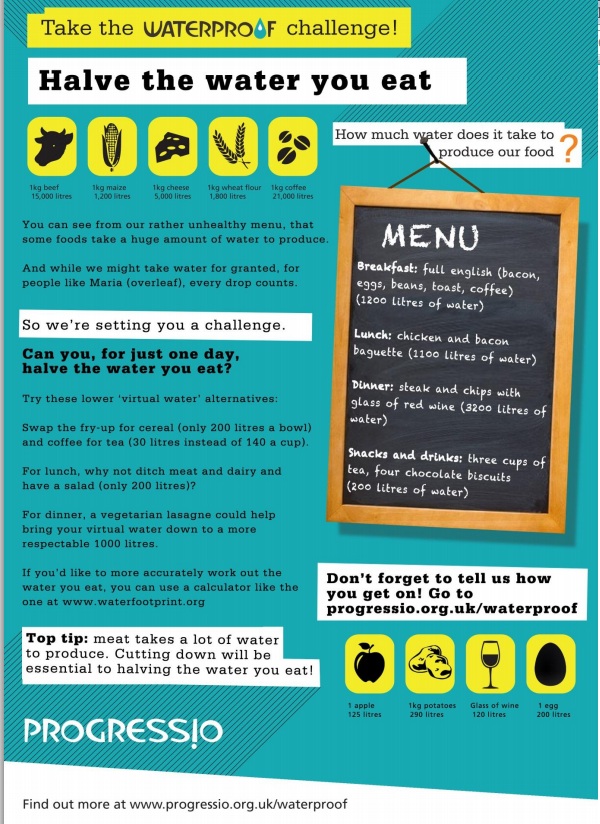 ---
Mon 11 Feb 2013
MP Lobby training
Throughout February Progressio's campaign team have been touring the land talking to people about how to lobby their MP about the Enough Food If campaign.
Sessions held in London, Manchester and Birmingham have proved popular for people who want to share the big 'Ifs' with their MPs ahead of the budget which will be announced on 20 March 2013. 
If you weren't able to get to a training session but are still interested in lobbying your MP you can e-mail your MP directly from our website. There's also a handy guide called 'Unleash the Power of IF : Campaign Lobby Pack'  that clearly explains how to go about approaching your MP to lobby them in person and then what to do next.  
If we all join together in calling for an end to world hunger politicians won't be able to ignore us!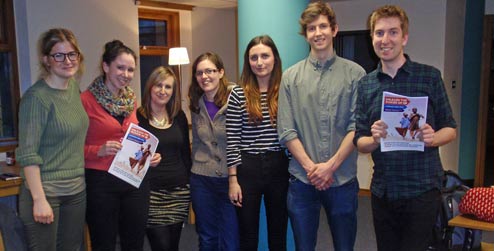 Progressio's Dan (far right) and Catherine (second from left) with MP lobby packs and people who attended training in Manchester (Photo © Catherine Orchard)
---
Thurs 24 Jan 2013
Enough food IF campaign launches in London
A big 'Thank you' to Bishop William Kenney, Progressio staff and supporters who braved the snow and ice a long with the many other campaigners and volunteers to support the Enough Food If campaign launched at Somerset House in London on Wednesday 23 January. 
Bishop Kenney took to the stage to urge people to sign up to the new campaign aiming to end world hunger. "Hunger and poverty are scandals on a global scale." Bishop Kenney said.
The IF campaign, made up of a coalition of 100 leading UK charities, is raising awareness of four key areas of concern, (tax avoidance, land grabs, aid and investment) in order to improve the world's poorest people's access to food - ahead of the G8 in Northern Ireland this June. 
Amongst the various celebrities who turned out to endorse this brilliant new campaign was Bill Nighy, who even stopped to sign our Progressio watering can! Thanks Bill!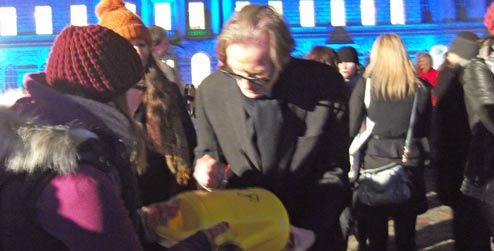 Progressio's Isabel jumped right in to ask Bill Nighy to autograph our watering can! (Photo © Kim Gilmour)