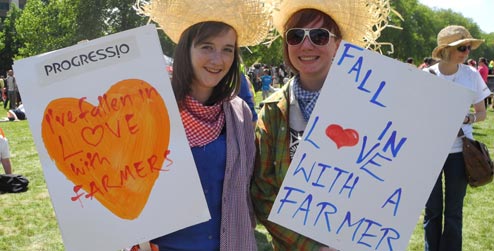 Thanks for your support - this action is now closed.
We've successfully pushed global political leaders to tackle hunger at the G8. But it's time to take the next step. We need to show how much global leaders need to love farmers!
The UK government has a track record of supporting small-scale farmers but, as we know, we need to step it up globally if we're going to meet the MDG on hunger. That's why we're asking International Development Secretary Justine Greening to show she cares about tackling hunger by investing some of the extra 0.7% aid spend in small-scale farming, particularly projects targeting women and water for livelihoods.
We'd like her to share her love with leaders from around the world at the upcoming MDG Review Summit - where the world assesses progress on the MDGs. With her leadership we can help get the right support to small-scale farmers and meet the MDG on hunger by 2015.
But we need your help. We're asking you to show your support this summer and add your face to our photo petition. We want to show Justine just how much suport there is for tackling hunger. It couldn't be easier:
get a camera or a cameraphone
dress as a farmer, hold some produce or just smile and take your photo
send it to campaigns@progressio.org.uk or tweet it to us @Progressio by 1 September
And we'll put them together and hand them in ahead of the MDG Review Summit.
You can read our newest briefing on the topic here, in case you needed any more persuading. And you can find us at festivals around the UK this summer. If you fancy taking the farmer action yourself, get in touch and we can send you a campaigns box full of everything you need.