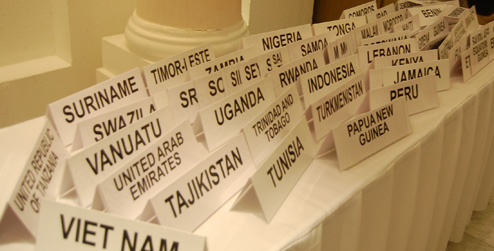 This is it! We've finally arrived at the UN climate talks in Cancun, Mexico.
More in hope than expectation
Maggie von Vogt, a Progressio development worker with UNES in El Salvador, gives a personal reflection at the beginning of the talks. More.
Vox Pops
We speak to three civil society leaders attending the talks about what has been done for far and what there is left to do. More.
Success for Progressio at the UN talks
After heavy lobbying by Progressio staff and partners, water has finally made it onto the formal agenda. Read more about this giant leap forward.
"The world is waiting for this generation"
After this week's liveblog, we bring you civil society leader and alpaca farmer Humberto Lizana's take on the talks and the importance of water issues. More.
--
Photo: Place settings at Cancun. Credit: Maggie von Vogt.