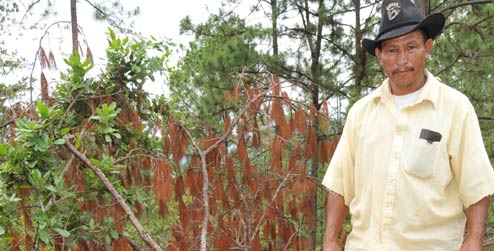 Victory! EU votes to stamp out trade in illegal timber
Fantastic news: we did it together! On July 7 2010, MEPs voted overwhelmingly to prohibit illegal timber being imported into the UK and EU. The sustained actions of hundreds of Progressio campaigners made a difference.
Each member of the Environment Committee voted on the proposed legislation on behalf of their Parliamentary groups. In total, 49 Environment Committee members voted in favour which represented an overwhelming majority of 644 MEPs out of a possible 685.
Alberto Granados, a small-scale farmer in Olancho, Honduras (pictured above, photo © Omar Banegas/Progressio) said that this vote "will serve our children – they will inherit the results." We hope he is pleased when he finds out!
Here at Progressio we're proud to have been one of the few organisations campaigning against logging; this is a big win for all Progressio campaigners. Thank you to all the more than 700 people who took action throughout the summer. You know who you are. We salute you.
Here are some messages from campaigners who heard the news:
Thanks for the update and congratulations on the success of your efforts.
Brian Davies
This is marvellous news - well done!
Anne O'Connor
My huge CONGRATULATIONS!! I know how long and strongly you all have been working on this important issue for so many communities here in the region and in other regions.
Carmen Medina (El Salvador)
Thanks for the good news, let us hope that by working together things will improve.
Nora Sheerman-Chase
I am pleased we were able to make a difference please send Alberto and his family my very best wishes!
Jacqui Lovell
---
Read more: